1st South Carolina Infantry, ca. 1916 at Camp Owen Bierne, El Paso, Texas, courtesy of SC Dept. of Archives and History
South Carolina Archives Month 2017
South Carolina at War
Every October, archivists around the country commemorate American Archives Month. This month-long celebration is a time for archival and cultural heritage professionals to bring awareness to their collections and spotlight the important work they do for their communities. In 2014, the South Carolina Archival Association revived our statewide celebration with South Carolina Archives Month, and we have continued the tradition since then. Themes in years past have included: Archives and the Natural Environment, Bridge Builders: Connecting Archives with Your Community, and Sights and Sounds of South Carolina.
For South Carolina Archives Month 2017, our theme is "South Carolina at War."  2017 marks the centennials of the United States' entry into World War I, the end of United States' involvement in the Mexican Expedition (1916-1917), and the creation of Fort Jackson here in South Carolina. Additionally, we can look to 2018 as the fast approaching 50th anniversary of Vietnam. This year is a unique time to highlight the preservation of military records and memorabilia both in institutional and private hands. With this theme in mind, we're looking forward to events featuring everything from military service to conscientious objection to civilian contribution!  We plan to celebrate exhibits, collections, acquisitions, and newly available materials across the state that are in keeping with this theme both through social media and through our blog.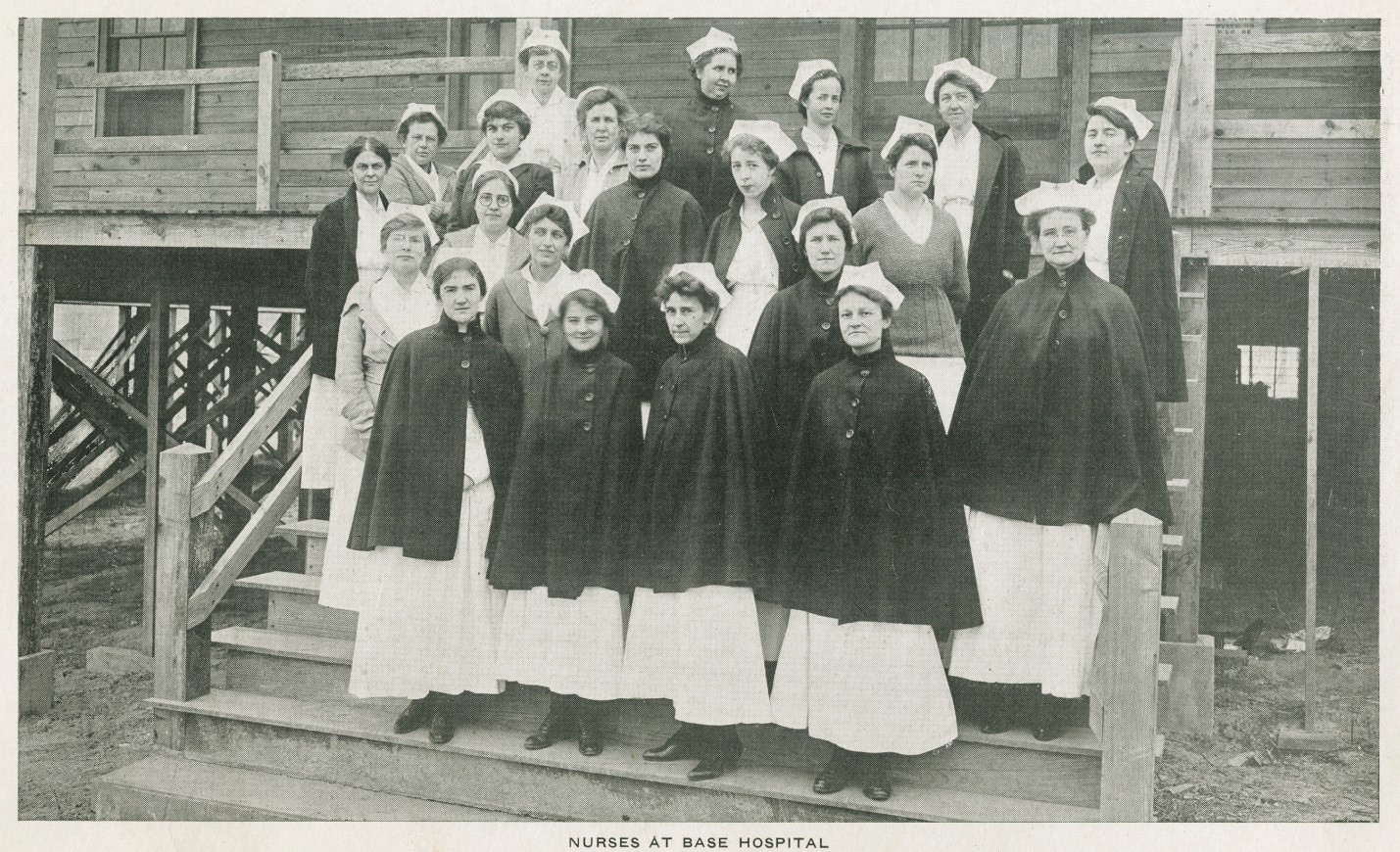 Camp Sevier nurses at base hospital (1917), courtesy of Greenville County Library System
Archives Month also presents us with an excellent opportunity to examine our outreach efforts and identify new opportunities for interacting with our patrons, encouraging the use of new digital access platforms, and reaching out to completely new audiences. When planning this year, keep in mind these potential opportunities:
·         Create new social media accounts ( on platforms like Pinterest) to curate virtual or retired physical exhibits
·         Work with National History Day organizers in SC and creating a list of topics for the 2018 theme: Conflict and Compromise in History. Collections related to wartime activities are ripe for use with this theme!
·         Host Lunch and Learns on topics of interest to specific communities such as assisted living facilities or retirement clubs
·         Use social media to showcase what archivists do, including brief conservation show-and-tell videos, #transformationtuesday posts featuring a newly processed collection, participate in #WWIWednesday posts, etc. 
·         Participate in Ask an Archivist Day (10/4) and Electronic Records Day (10/10)
Let's work together to make certain all of South Carolina's citizens understand their own vital place in the historical tapestry of our state!
Don't miss out on this opportunity to showcase a part of your archival collection! Please share information about your Archives Month event(s) with us by emailing president@scarchivists.org, and we will post it on our website and publicize via Facebook, twitter, and other networks! Also, don't forget to join us for our annual meeting at the Citadel in Charleston on October 20th!